Stainless-steel stairs in food processing facility fab-install
Shawn, I had a conversation with your team Friday at the close of the day.  We discussed status and it is believed the work will be completed today. On that note, your guys were great to work with and I very much appreciate their professionalism.
L.W. Louisville, Ky.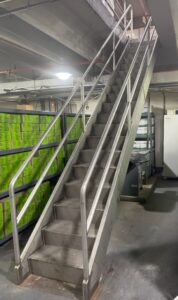 Polished stainless-steel countertop with integral welded sinks fab-install
The counter is absolutely gorgeous. I'm so happy with it!
Thank you,
N.S New Albany, IN.
Galvanized exhaust hoods fab-install
Thank You. Please let your crew know that we are impressed with the work done.
E.C. Shepherdsville, Ky.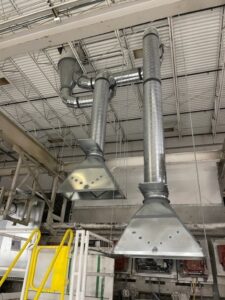 Polished Stainless-steel countertops
We are thrilled with polished stainless-steel countertops. Your installers were very professional and I wanted to pass this along.
R. M. Louisville Ky.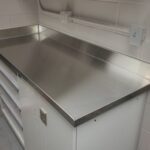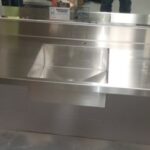 Blackened carbon steel kitchen hood
Thank you! We are thrilled with the hood. It turned out beautifully.
L.C Louisville Ky.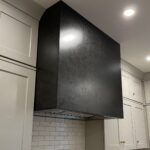 Note Of Appreciation....Stainless Steel process hood
Just wanted to let you know Bluegrass Metal Works did a phenomenal job on the hood for 29736!
They have set the bar high. I look forward to seeing additional work from those guys in the future.
Thanks,
Brandon O.
Louisville, Ky.
Note Of Appreciation....Galvanized process duct fab & install
George, I wanted to take this opportunity to thank you and the Bluegrass Metalworks Team for a job well done. Mike and his Team represented your company in the highest manner regarding safety, quality, work ethic, and the ability to work with our team and other contractors. During their visit I was asked multiple times about Bluegrass due to the high quality of work and their overall work ethic.
Kudo's to the Bluegrass Team and we look forward to the next stages of our project!
Best regards
JB- Engineering Manager
Clarksville, TN.
Stainless Steel Point of Sale Table
Hey David,
I just wanted to follow up to let you know that my fab manger was super happy with your work on the stainless-steel table. Just wanted to let you know he was very happy with the craftsmanship of the table.
Much appreciated!
A.R. Project Manager Louisville, Ky.
Stainless Steel Air separator unit
This is absolute perfection, awesome work, and craftsmanship. Much appreciated
J.S. Winston Salem, NC.
Polished stainless steel handrail fab
The polished stainless steel handrails are beautiful!  Thanks!
L.L Louisville, Ky.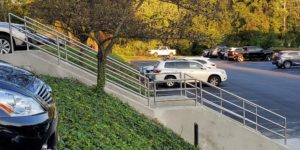 Duct & Hopper installation
Just letting you know we finished the installation of the conditioning tower duct and hopper this past weekend.  Everything fit great and I just wanted to say thanks!
M.B. Sellersburg, IN.
SS Elevator jamb installation
By the way - the guys you sent out there were great.  Easy to get along with, knew what they were doing, & cleaned up after themselves.  I was impressed!
L.L Louisville, Ky.
A detailed QA inspection of your ducting products revealed no issues at all. On behalf of our entire company, let me say thanks for your help and a job well done!
D.L New Albany, IN.
The table is perfect and works great for our application. We appreciate all your help and the fast turnaround!
B.L. Louisville, Ky.
By the way – that last corner you did was awesome! Be sure to tell your shop they did a nice job.
Thanks,
L.L Louisville, Ky
Thanks for your work and timely completion on this project. The level of workmanship and pictures brought back by our QA Manager look great!
E.T. Jeffersonville, IN.